Bi-Weekly Video Update – 12/10/17
It's Lon Naylor this week with a year-end review of the best video animation tools of 2017.
On the Blog: Top Video Animation Tools for 2017
2017 was an impressive year for all things video. As video creators using Camtasia and PowerPoint, one of the stand-out areas of innovation and value was that of video animation tools.
These are my Top Picks of the year based on functionality, versatility, ease of use, and bang for the buck.
These are in no particular order of ranking…they are all 1st place winners in my book! Plus… you'll find some links to freebies in the post.
READ MORE ==> Top Video Animation Tools of 2017
Enjoy!
[divider_line_dashed] [/divider_line_dashed]
Social Media Video Tips
One of my favorite free resources for all things "social media" is the Social Media Examiner.
Their blog is one of the best sources for short tips and tricks from top pros for using these important platforms… especially for our videos!
Here's a sample called:
"How To Improve Your Facebook Video Watch Time"
You'll find dozens of useful posts for video and also topics for content creation, podcasts, personal or company branding, working with images, marketing… all kinds of stuff.
That's it for this week – see you in two weeks!
Lon Naylor and Michelle Schoen
LearnCamtasia.com
Contact Us
[divider_bar] [/divider_bar]
Bi-Weekly Video Update – 12/31/17
Happy New Year! It's Michelle and this is our last newsletter for 2017. I wanted to end the year by thanking you for being a subscriber and letting you know how much Lon and I appreciate you.
A new year means new ideas, new potential, and new opportunities to build the skills and knowledge you need to reach your goals. Enjoy my new blog post and the two free resources I've discovered below.
On the Blog:
Now that the new year is approaching there's a good chance that you'll have some New Year's resolutions that include developing your first training video or even taking some training yourself.
A problem I see with New Year's Resolutions that include purchasing a bunch of training courses is that so often we receive so little follow up or ways to implement the content we've learned.
Don't let this happen in the courses you create!
Here are some ideas for making sure your students complete and retain the information in your screencast videos…
Recommended
No one is going to see the cool videos you create unless you promote them. Getting traffic to your website,video courses and YouTube channel is mandatory!
That's why when I saw this book that David Perd/ew, over at NAMS, is giving away, I couldn't wait to get it to you….
It highlights 28 ways (from simple to complex) to begin driving consistent traffic to your site.
Get it here: Rapid Traffic Secrets
You'll never get all 28 traffic methods implemented, right?
No, and you shouldn't. As he says in the book, pick one, master that one, and get it working on autopilot.
Then pick another.
That's how great traffic masters get traffic to their sites every day. Without worry or exception.
Get the book now… while he's still giving it away for free.
[divider_line_dashed] [/divider_line_dashed]
Animated GIFs to Add to Your Videos
I must not be the only one whose been seeing these funny animated gifs in blog posts and emails over the last couple of years. Some of them are so funny and I've been wondering where on earth are they getting them.
Mystery solved: The website Giphy has thousands of animated gifs for you to link to, download or add to your videos!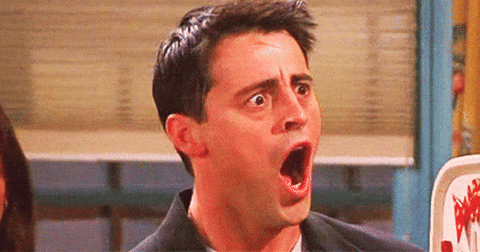 (I used to just adore Joey from Friends. So cute!)
Just find the gif that works for you, click the Download link then choose mp4.
Note: I haven't read the Terms of Service so just make sure to read it so you know exactly how you can use these.
That's it for this week – see you in two weeks!
Lon Naylor and Michelle Schoen
LearnCamtasia.com
Contact Us
[divider_bar] [/divider_bar]